Download our ISO 9001:2015 Certification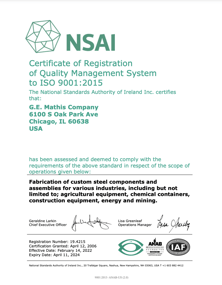 G.E. Mathis Company is proudly ISO certified. ISO 9001:2015 deems our company as a fully qualified management system that ensures we meet all ISO requirements.
In addition, G.E. Mathis Company can provide the following services:
- PPAP (Production Part Approval Process) – All Levels
- FAIR (First Article Inspection Report)
- Capability Studies (Statistical Process Control)
- CMRT (Conflict Minerals Reporting Template)
Be sure to download a copy of our ISO 9001:2015 certificate to have for your records.
Simply fill out the form to download a copy of
the ISO certificate.
For more information on our services and how we can assist you with your next project, please contact us or request a quote for your next project. We look forward to working with you.