Build Tougher Components for Your Applications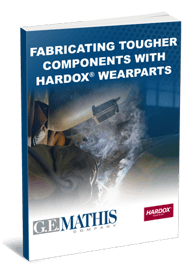 G.E. Mathis Company proudly stocks a variety of materials to fit every application, but our SSAB Hardox Wearparts are designed to withstand the harshest operating conditions.
In our free guide, Fabricating Tougher Components with Hardox Wearparts, you'll learn all about Hardox Wear Plate equipment, including:
- The versatility of the material
- How it enhances performance and service life for industrial applications
- The range of jobs and industries Hardox can support
To see if Hardox Wearparts are right for your application, simply fill out the form to download your copy of the guide.