Over A Century of Excellence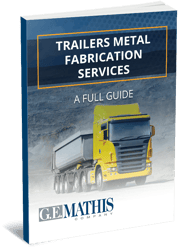 Commercial trucks and trailers are vital to successful operations in nearly every industry to dependably and safely carry goods to their destinations. So, it's crucial to partner with a metal fabricator who understands the unique demands of the commercial trailer industry.
To this end, our full guide to Trailers Metal Fabrication Services will cover:
- Metal Fabrication Services in the Trailer Industry
- Common Materials and Parts Found in the industry
- G.E. Mathis Company's Metal Fabrication Services for the industry
- Metal Fabrication Solutions from G.E. Mathis Company
Simply fill out the form to download the free guide!